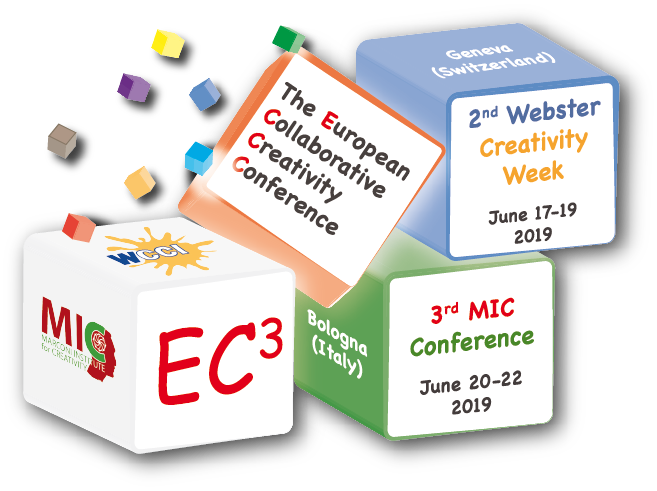 Dear participant, here are some details about how to register for the EC3 Conference. As you probably have noticed, the EC3 Conference is a unique event which is held in two cities (Geneva and Bologna) and includes an organized tour between the two conference locations.
Different registration and purchase options are available:
1) In order to experience the unique athmosphere of this collaborative conference at its best, we recommend registering for both events, the 2nd Creativity Week in Geneva (from June 17 to June 19) and the 3rd MIC Conference in Bologna (from June 20 to June 22).
2) In case you choose the option above, we would like to suggest to also take advantage of the organized tour (see here for more information), buying the transportation from Geneva to Bologna and the lunch on June 20th.
3) You can however choose to register only to the 2nd Creativity Week or to the 3dr MIC Conference, in case you are able to attend only one of the two events. Please note that registration is mandatory as seats might be limited.
4) You can buy additional tickets for accompanying persons for the 3rd MIC Conference Opening Event, which will take place in Bologna on the evening of June 20th (please note that one personal ticket is already included in the registration to the 3rd MIC Conference).
5) Special reservation fees are reserved for members of the APA Division 10, Society for the Psychology of Aesthetics, Creativity, and the Arts.
As a final note, we encourage you to take advantage of the early bird fees (until April 15) and of the reduced students registration fees, in case you are a student. We look forward to seeing you at the conference!
BEFORE

April 15, 2019

AFTER

April 15, 2019

FULL registration for the 2nd Creativity Week – Geneva – June 17-19

Free

Free

FULL registration for the 3rd MIC Conference – Bologna

*

– June 20-22

350€

400€

APA Div.10 Member – FULL registration for the 3rd MIC Conference

300€

350€

STUDENT registration for the 3rd MIC Conference – Bologna

*

– June 20-22

200€

250€

APA Div.10 Member – STUDENT registration for the 3rd MIC Conference

170€

220€

CROSSING THE ALPS BY BUS (from Geneva to Bologna) + lunch on June 20

100€

ADDITIONAL ticket for one accompanying person for the 3rd MIC Conference opening event – June 20

50€

* Full and student registration for the MIC Conference includes:

registration for the 3rd MIC conference
lunches and coffee breaks at the 3rd MIC conference
transportation from Bologna to Villa Griffone (venue of the conference)
one ticket for the opening event (June 20 evening)